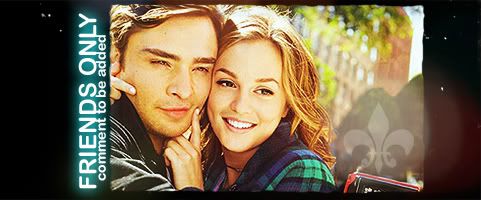 LOCKED: Comment here to be accepted. I won't accept you unless you comment before friending me.
Tell me what we have in common, if anything. If not, just tell me something about yourself.
I'll basically add anyone unless you haven't updated your journal in ages.
* ALL Non-friend COMMENTS ARE SCREENED.
Name
: Lauren.
Hobbies
: Writing. Singing. Dancing. Softball
Loves
:
90210. American Idol. Cooking. Disney Channel. Music. One Tree Hill. Photoshop. Privileged. Reading.

Celebs
:
Ashley Tisdale. Dakota Fanning. David Henrie. Demi Lovato. Dustin Milligan. Jesse McCartney. Jonas Brothers. Kristen Stewart. Megan Fox. Rob Pattinson. Selena Gomez. Shenae Grimes. Sophia Bush. Taylor Lautner. Taylor Swift. Travis Garland. Vanessa Hudgens. Zac Efron.
Movies:

A Walk to Remember. Big Daddy. Finding Nemo. Hocus Pocus. Jack. Keith. Pineapple Express. She's the Man. Slumdog Millionaire. Step Brothers. Step Up 1-2. Superbad. The Dark Knight. The Secret Life of Bees.

Twilight.
Ships: Annie/Ethan. Bella/Edward. Chuck/Blair. Dan/Serena. Lucas/Brooke. Nate/Vanessa Nathan/Haley Taylor/Selena. Rob/ Kristen. Zac/Vanessa.
Current Obession: Blue nailpolish, the color black, Starbucks Soy Cinnamon Dulce Latte, Starbucks Mocha Frapuchino.

Note: I used to have another journal. My other journal was
ohsoofficialx23. I decided to start fresh with a new journal because my last one was an epic failure. I didn't comment anyone else's journal & was basically a sucky friend. I wanted to start new with this one because that will all change once I friend/am friended (by) someone. I promise to post entries more that once a month, and comment your entries as well.
Current Mood:
excited
Current Music: fifteen - taylor swift